Kitchen August 13 2012
BROWNIE TIRAMISU ::: That Skinny Chick Can Bake
After tasting an outrageously delicious apple tiramisu spiked with Calvados in Normandy this summer, I started brainstorming about other ways to make tiramisu. My oldest adores the classic version, but hubby is not a fan of a strong coffee flavor in his desserts nor lady fingers. No wonder he's never been enamored with this dessert.
Instead of ladyfingers, I decided to make a Kahula soaked brownie, then top with a layer of sweetened mascarpone mixed with slosh of kahlua and whipped cream, hoping the coffee flavor would be subtle enough for Mr. Picky's palate. A dusting of chocolate wafer crumbs would complete this tiramisu.I worried a bit when hubby sampled some of the leftover brownie crumbs doused with Kahlua…he griped about the obvious coffee flavor. But when the dessert was layered and chilled, there was nary a complaint.
About Liz: Liz Berg's "That Skinny Chick Can Bake" blog is filled w/ humor and excellent advice about baking and cooking in general. Liz shares her enthusiasm for cooking and baking, and is generous with her tips, suggestions, and friendship. Her photos are drool worthy and often include glimpses of the family dog, Lambeau. Her husband and 3 children prefer to stay out of camera range. Liz's blog is easily approachable and good for bakers and cooks of any level. Find Liz on Facebook, Twitter, Google+, StumbleUpon and Pinterest.
TACO SALAD WITH CHIPOTLE LIME DRESSING ::: Love & Lemons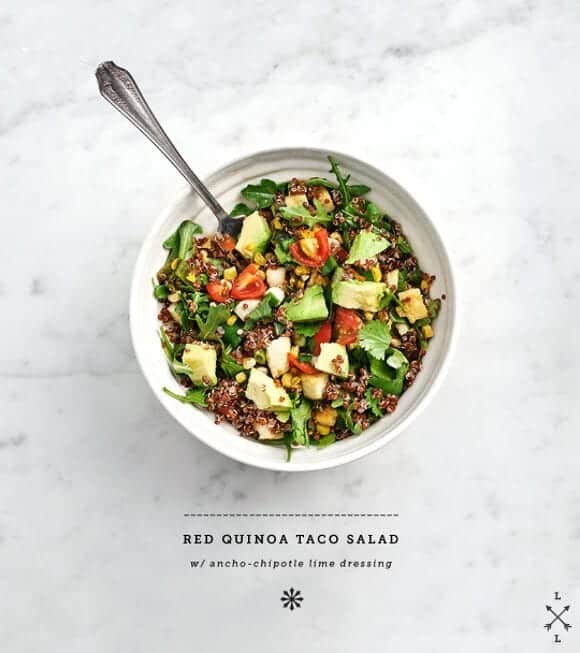 I eat a lot of tacos. Here in Austin, you can't walk 10 feet without tripping over another taco truck or mexican restaurant. But my favorite thing is actually the taco in it's deconstructed form: the taco salad.
You can take this in as many different directions as there are taco fillings, but I especially like this with red quinoa (although if you had non-red quinoa it would taste pretty much the same). The chewy little red kernels sort of take on the essence of taco meat.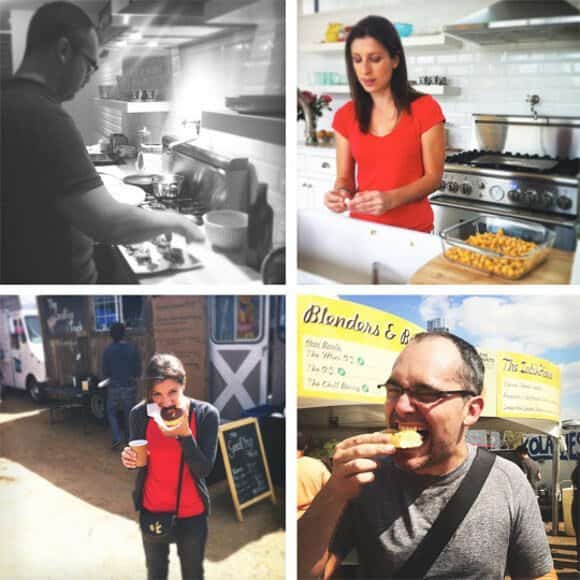 About Jeanine (& Jack): Hi, my name is Jeanine. I'm a designer, healthy-food-maker, and all-around creative-kind. My husband Jack is a video game programmer, cheese lover, and the general household tech-support. In a lot of ways, we're two people that couldn't be more different. We started this blog because the one common interest we share is food. Whether we're exploring cultures halfway around the world, checking out a new neighborhood restaurant, or experimenting in our own kitchen, we have the most fun together when food is involved. Also, after 11 years together, we just needed a new project to talk about.

CLASSIC SAMOSAS WITH FOUR FILLINGS ::: Creative Flavors
I was so curious to know about making of this signature snack of Indian cuisine. Samosa – the famous family snack is enjoyed right in the casual partying to cocktails where small and cute baked versions becomes a food statement. The memories of good old school days came flooding in my mind. I remember buying hot samosa and cute little pack of popcorns from school canteen to take away the stress of science and mathematics classes to samosa party with friends almost every week, with reason at times and without reason most of the times. Cant just believe now that samosa could be bought for just 50 paise.
About Sonia: My name is Sonia and I grew up in City Beautiful- Chandigarh, India. Currently, I live in New Jersey with my husband and a son. I had always enjoyed good food but learnt cooking only after getting married and precisely after having my 'little monster' as I went on a sabbatical. It took me couple of years to learn and unlearn the tricks of the trade. I have been trotting around the globe with my family from last couple of years. My journeys to interesting places around the world gave me an opportunity to explore the world of food. I believe in cooking by instincts and not rules. I let myself go free in my kitchen by cooking with given limited ingredients at a time; and try to add new colors and flavors to old conventional dishes. I was surprised to find that the new fusion food took less time to cook and look more exciting. It is fun to embrace diversity and create a fusion of Indian flavors with my favorite foods around the globe.Today I have developed my taste buds for all kinds of vegetarian cuisines and come a long way from relishing "Lassi to Lasagna".
Follow Sonia on Facebook, Twitter, or Flicker.
ROASTED VEGGIES :::

Mental Chew
Once I start slicing and chopping, I can't stop. Do you remember the scene in "The Long Kiss Goodnight" when Geena Davis realizes she has some knife skills in the kitchen? Well, maybe not like that, but this isn't a new problem. Whenever an incredible array of organic produce is at my fingertips, I want to roast it or grill it. Tonight was a roasting night.
The best part of this recipe is that two trays will easily work their way into at least two meals. In this case, they served as a side dish to ravioli on the first night and alongside teriyaki chicken over brown rice on the second night.We love our roasted vegetables in this house.
I will add them to pasta, throw them in a tortilla with a little salsa and sour cream, add the to soups or serve them alongside meat. To be honest, I am not a snob when it comes to my roasted veggies. I will eat them hot. I will eat them cold. I will eat them with kosher salt and pepper and fresh rosemary. I will eat them with reduced balsamic. I will eat them plain. If it were up to me, they would be part of every meal. Here are the basics to add a lot of color to every meal…
About Val: Val Curtis is the creator of the Food & Garden site Mental Chew. She is a former middle school science teacher who put her career on hold to be at home with her two babes.
When Val breaks away from her keyboard, she enjoys gardening, cooking, hiking, camping, tidepooling, sailing and potlucks. She gets a kick out of combing the web for recipes and then adapting them for her husband, family and friends to enjoy. Through her love of organic cooking, she became interested in growing her own produce and Mental Chew gave her the chance to combine her love of food and gardening as well as explore her new passion of photography.
Follow Val on Facebook, Twitter, on Instagram (mentalchew) or Pinterest.