Your Harvest Time Food Guide by Seasonal Wisdom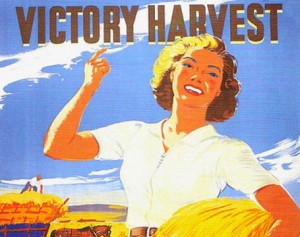 Harvest time is going strong as I write this Seasonal Wisdom post.  August and September have long been celebrated as an abundant time of year when delicious fruits and vegetables are plentiful. Now is the time to acknowledge Mother Nature's gifts, while preparing for the upcoming cold season.
This Seasonal Wisdom harvest time post is illustrated by historic wartime garden and food preservation posters, and provides helpful resources, tips and recipes for enjoying local foods now … and in the winter. Happy Harvesting!
<< We love having Teresa featured here on Bonbon Break and this week she is up for a special award for Blog of the Year among Garden Bloggers. Click HERE to vote for her!>>
ABOUT TERESA: Teresa O'Connor is a national writer and speaker about gardening, food and folklore. A trained master gardener in California and Idaho, Teresa co-authored Grocery Gardening: Planting, Preparing & Preserving Fresh Foods with three women she met on Twitter. Her food and gardening articles has been published in Fine Gardening, Horticulture, Coastal Home and Gardening How-To, and she writes monthly for the National Home Gardening Club's website.Known to many as Seasonal Wisdom, Teresa combines history with contemporary trends to deliver creative ideas for today's lifestyle – via Twitter, Facebook, Pinterest and her blog  www.SeasonalWisdom.com, which TV personality and tastemaker P. Allen Smith called one of Ten Great Garden blogs. You'll find everything from garden fresh-recipes and charming old traditions to the latest gardening tips, along with fun giveaways and interesting guest posts. Come on by and join the fun.
CONTINUE READING IN THE BACKYARD