Earl Grey Tart with Berries by Flour Arrangements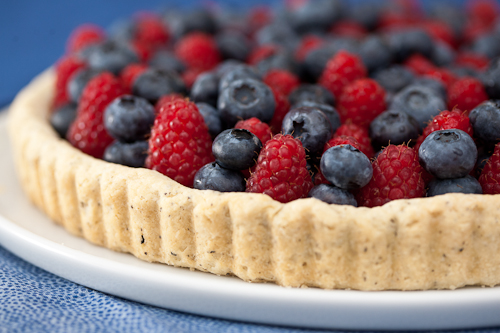 I managed to get all the way through college without acquiring a coffee habit.
As a child, when I begged my coffee-chugging mom for sips of her coveted brew, she told me in a horrified tones how drinking coffee  would stunt my growth.  Clearly this made an impression on me (she barely clears 5 feet, so I figured she knew what she was talking about).  Now that I'm a mom, I realize she probably had her hands full without having one of her three kids amped up on caffeine.
My love-affair with coffee — which began and ended in my early post-college days — was brief.  Getting to work in downtown San Francisco by 9:00 a.m. exhausted me, and I started drinking coffee to make it through the day.  Around this same time, I also started suffering from what I thought were stress-induced stomach cramps.  Looking back, I can't believe I actually thought 9:00 a.m. was early.
In any case, one morning, converging deadlines prevented me from making coffee.  After juggling several projects and finally completing all of them, I realized that I felt great.   Sure, I was pleased that I'd cleared my desk, but the best part — my stomach cramps had completely disappeared.
After a few coffee-free days, my stomach no longer troubled me, but I decided to have a cup of coffee just to see what would happen.  I did, in fact, enjoy my morning cup lightly sweetened and doused with cream, so I wasn't going to give it up on a whim.  Like clockwork, my stomach cramped up, and I decided to give up coffee for good.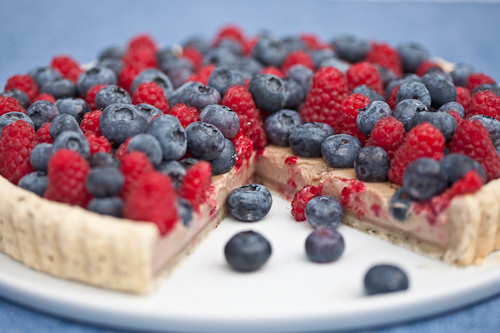 I already loved tea, so switching over didn't exactly break my heart.  I'd spent a summer abroad in London during college and had wholeheartedly embraced the tradition of tea in the afternoon.
I simply started drinking tea all day long and never looked back.
I'm surprised it took me so long to try making a tea-infused dessert.  This one incorporates Earl Grey Tea in the tart crust as well as the filling.  It's sweetened with brown sugar and flavored with vanilla, which complement the subtle tea flavor steeped into the cream.
The addition of fruit on top makes this decidedly unattractive tart presentable, and adds a tart contrast to the sweet, rich filling.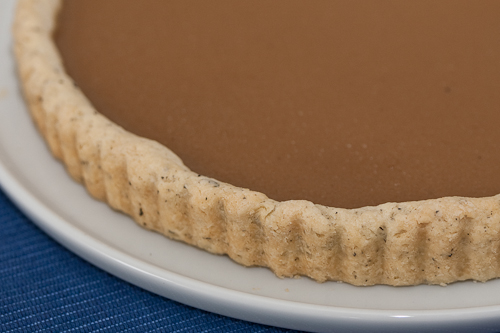 Even if you're not a tea-lover, I'm guessing the creamy, sweet filling in this tart will win you over.
If you decide to share with your kids, you may want to do it early in the day or just tell them it will stunt their growth.   The last time my daughters ate it, they chattered wide-eyed in their beds until at least 11:00 p.m.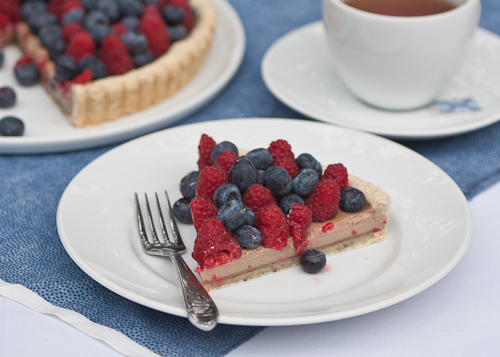 Earl Grey Tart with Fresh Berries
This recipe will fill a 9-or 10-inch fluted tart pan.  I usually steep the tea in the cream before starting on the crust.  That gives the cream plenty of time to cool before proceeding with the filling recipe.
Crust
1 1/4 cups flour
1 teaspoon loose-leaf Earl Grey Tea
1/4 cup powdered sugar
1/2 teaspoon salt
1/2 cup (1 stick), plus 2 tablespoons butter, cut in slices
2 tablespoons ice water, strained, plus more as needed
1/2 teaspoon vanilla extract
Whirl the first four ingredients in the bowl of a food processor until the tea leaves are coarsely ground.   Add about 2 tablespoons butter and process until you no longer see chunks.  Add remaining butter and process briefly, leaving chunks the size of peanuts.
Working quickly, turn on the food processor and pour the ice water and vanilla through the feed tube, stopping before the dough comes together.  Pinch a bit of the dough between your fingers.  If it does not stick together, add a couple of teaspoons more water and whirl briefly.
Turn out the dough onto a large piece of plastic wrap.  Use the plastic wrap to help you create a large, flat disk:  fold the edges of the dough toward the center and press down to smooth out the roughness.   Refrigerate dough for at least 30 minutes.
Roll out dough into a circle to fit a 9-or 10-inch tart pan with about an inch of overhang all the way around the pan.  Transfer dough carefully into the tart pan, and then fold overhanging edge down inside the tart pan, pressing gently to help it adhere.  Prick the bottom of the crust all over with the tines of a fork.
Filling
1 3/4 cups heavy cream, milk or a combination of both, as desired
1 tablespoon loose-leaf Early Grey Tea
1/4 cup granulated sugar
1/2 cup brown sugar
3 tablespoons all-purpose flour
1/4 teaspoon salt
2 large egg yolks
1 large egg
1 /2 teaspoons vanilla extract
3 to 4 cups fresh berries
Preheat oven to 425° F.
Bring cream to a boil over medium heat.  Remove pan from burner and stir in tea leaves.  Steep for 10 to 15 minutes and then strain.  Set aside and allow to cool.
In a small bowl, combine sugars, flour, and salt.  Mix well, breaking up brown sugar lumps as much as possible.
In a mixing bowl, combine cooled, tea-steeped cream with eggs and vanilla;  beat until combined.  Add sugar mixture and mix well.
Pour the filling into prepared tart crust through a strainer.
Bake on the bottom rack of the oven for 15 minutes.  Reduce heat to 350° F and bake for 10 to 15 minutes more, until the filling is set 2 inches from the edge (don't worry about the wobbly center; it will set up as it cools).  Remove pie from oven and cool completely on a wire rack.
Once cool, top tart with mixed berries.  Refrigerate until ready to serve.
ABOUT SUZANNE:  Suzanne focuses on food as centerpiece for both everyday routines and special occasions. Each recipe featured on Flour Arrangements, from simple loaves of bread to fondant decorated birthday cakes, comes with a story that blends life with cooking. You can follow Suzanne on Facebook, Twitter, and Pinterest.