Kitchen July 30 2012
BROWNIE TIRAMISU ::: That Skinny Chick Can Bake
 After tasting an outrageously delicious apple tiramisu spiked with Calvados in Normandy this summer, I started brainstorming about other ways to make tiramisu. My oldest adores the classic version, but hubby is not a fan of a strong coffee flavor in his desserts nor lady fingers. No wonder he's never been enamored with this dessert.
Instead of ladyfingers, I decided to make a Kahula soaked brownie, then top with a layer of sweetened mascarpone mixed with slosh of kahlua and whipped cream, hoping the coffee flavor would be subtle enough for Mr. Picky's palate. A dusting of chocolate wafer crumbs would complete this tiramisu.I worried a bit when hubby sampled some of the leftover brownie crumbs doused with Kahlua…he griped about the obvious coffee flavor. But when the dessert was layered and chilled, there was nary a complaint.
About Liz: Liz Berg's "That Skinny Chick Can Bake" blog is filled w/ humor and excellent advice about baking and cooking in general. Liz shares her enthusiasm for cooking and baking, and is generous with her tips, suggestions, and friendship. Her photos are drool worthy and often include glimpses of the family dog, Lambeau. Her husband and 3 children prefer to stay out of camera range. Liz's blog is easily approachable and good for bakers and cooks of any level. Find Liz on Facebook, Twitter, Google+, StumbleUpon and Pinterest.

 ROAD TRIP LUNCHES ::: BentOn Better Lunches
It's summertime! I don't need to pack a lunch! Well, not a school lunch anyways… there are still day camps, trips to the park, picnics on the beach… and family vacations, which means… road trips!
Eating in the car is not something I usually allow, but I make an exception on long road trips. It's harder to find healthy eating options along the highway than it is to vacuum the crumbs from the van, and stopping for lunch makes the trip longer too. Instead, I pack snack-type things we can graze on throughout the trip. Munching seems to help with boredom too.
5 things I keep in mind when choosing food to pack for a road trip…
About Cristi: Cristi Messersmith is a busy military wife, and mum to 5 picky sproutlets, 1 with autism. In her spare time she enjoys… oh, who are we kidding, she doesn't have any spare time! Her blog chronicles her efforts to provide her family with nutritious, affordable, fun trash-free lunches for school and work. Find Cristi on Facebook and Twitter.

EARL GREY TART WITH BERRIES::: Flour Arrangements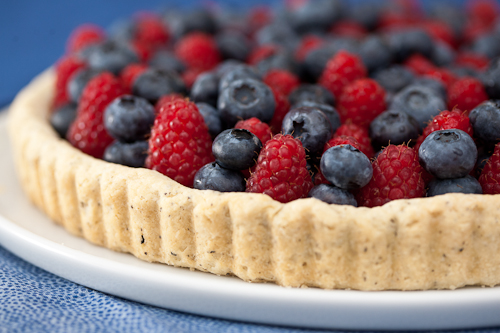 I managed to get all the way through college without acquiring a coffee habit.
As a child, when I begged my coffee-chugging mom for sips of her coveted brew, she told me in a horrified tones how drinking coffee  would stunt my growth.  Clearly this made an impression on me (she barely clears 5 feet, so I figured she knew what she was talking about).  Now that I'm a mom, I realize she probably had her hands full without having one of her three kids amped up on caffeine.
About Suzanne:  Suzanne focuses on food as centerpiece for both everyday routines and special occasions. Each recipe featured on Flour Arrangements, from simple loaves of bread to fondant decorated birthday cakes, comes with a story that blends life with cooking. You can find Suzanne on Facebook.

SLICED BEEF YAKITORI ::: Home Skillet Cooking
Plunging a stick in food was a genius idea – I sincerely wish we could thank the person who originally thought of doing that. Think about hard candy. If someone was like ohh, here have some candy and they handed you hard candy you would be like um thanks? But get a stick in that hard candy and it becomes fun! You would totally be happy if someone gave you a lollipop. Take a corn dog… If possible, Seth would probably divorce me and marry the person who came up with that. Take the stick out of the cornbread encrusted hotdog, and he would be like ehhh, ok. But once that stick is there it is all like, ohh my god must have it. Here, we take fresh beef flap meat, marinate it in a homemade teriyaki sauce, skewer it, then grill it over high heat, brushing it with a thickened version of the marinade. Like eating a popsicle, but all meaty and umami. And you know, grilled. And not frozen. Actually the opposite.
About Seth and Jenn: When not animating computer generated characters, or playing video games, Seth can be found obsessing over food.  When Jenn is not chasing around our toddler, or reading, she too can be found obsessing over food (and chapstick).  Over the last few years, our joint passion for food has taken on a life of its own and manifested itself as the blog, Home Skillet. We have no culinary training, but we spend most of our free time reading cookbooks and magazines and experimenting in the kitchen.  Seth works as a character animator in the video games industry, while Jenn has a master's degree in Science and Technology Studies, and is now a stay-at-home mom to a toddler and two cats.
Follow Home Skillet Cooking on Facebook, Twitter,  Pinterest or subscribe via RSS.
10 HOMEMADE CLEANERS MADE FROM CITRUS :::                                   

One Good Thing by Jillee

Last week I wrote about making your own Citrus Enzyme Cleaner, which got me thinking about how the whole idea of cleaning with citrus just makes so much sense to me (not to mention that I LOVE the smell, taste, and just about EVERYTHING else related to citrus!)
I mean why pay ridiculous amounts of money for harsh commercial cleansers when you can create your own INEXPENSIVE and EFFECTIVE versions using citrus peels? What makes them so effective? Citrus peels contain oil called D-limonene which is a powerful solvent for dirt and especially grease.
And as a bonus…citrus cleaners leave your home SMELLING fresh and clean!
About Jillee: Jill Nystul is the creative force behind One Good Thing By Jillee. She started the website in June of 2011 and has enjoyed a meteoric rise in readership since that time. She attributes this success to savvy readers that desire to enrich their lives while recognizing the need to conserve time, money and resources. Her background in broadcast journalism and television talk show production have proved to be the perfect compliment for her blogging career and website mantra: "Sorting through the beautiful clutter of life to find that One Good Thing each day and sharing it with you."
Follow Jillee on Facebook, Twitter, Pinterest, Google+,and  RSS.